Choose your own adventure. Although American Prairie is constantly expanding as we purchase new habitat, it's a place that you can already enjoy and explore.
American Prairie owns several properties that connect public lands spread across central and northeastern Montana. Each property varies in size and includes terrain like sagebrush plains, riparian areas, and the steep, eroded hills of the Missouri Breaks. The diverse landscape gives visitors the opportunity to see wildlife in their natural habitats, and Indigenous and homestead-era sites serve as a reminder of the important history and cultural significance of the region.

Note that services are limited once leaving paved roads and highways, cell phone coverage is unreliable, and there are no ranger-type staff available to provide emergency assistance. Please abide by posted signage and refer to American Prairie-provided maps for property-specific rules. Follow Leave No Trace principles during your trip, refer to public land agencies for rules and regulations, and respect adjacent private property. Visitors are encouraged to stop by the National Discovery Center for help planning their trip to the prairie and to learn about the history and importance of the temperate grassland ecosystem.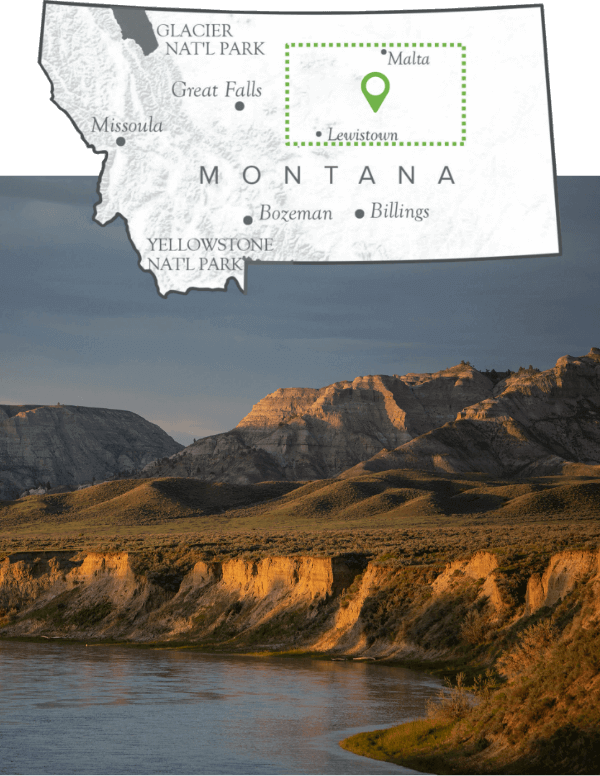 The region contains some of the most remote areas of the lower-48 states. We ask visitors to self-educate and be prepared prior to planning a trip, and choose options that meet personal skill levels.
Easiest: National Discovery Center and Antelope Creek (either for a day trip to hike the nature trail, or stay overnight at cabin)
Medium: Myers Family Huts
Difficult: Buffalo Camp
Expert: Self-guided dispersed camping in the backcountry
On this page you'll find options for downloading and printing maps, using a GPS map app on your smartphone, or requesting maps by mail. Note that Google Maps, Apple Maps and similar online services are unreliable in the region, and the cell coverage they require is infrequent.
Maps on your Smartphone
For all visitors with access to a smartphone, we highly recommend using Avenza Maps. This free app allows you to download American Prairie's maps (also free) and then use them even when you have no cell phone service. The GPS chip in your phone allows the map to show your location on the ground.
Download the Avenza App to your smartphone from the Google Play Store or from the App Store. Once you have installed the app, download American Prairie's Current Maps. Be sure to do this before your trip, when you have wifi or good cell service.
Download Maps for Printing
You can use the links below to download PDF files for printing on your home printer. Please note the Map and Guide is best if printed at 11×17 or larger for all features to be legible.
Maps by Mail
Our printed visitor map is a great resource that includes essential information about travel to and on the prairie, points of interest, camping, and natural history. Donations from our supporters allow us to provide these maps at no charge. Please fill out the form below to request a visitor map. Our staff will work to get you the map as soon as possible, but please plan for 2-3 weeks turnaround time.
Getting to the Prairie
The prairie comprises several large properties with a handful of smaller holdings. Aside from the National Discovery Center in Lewistown, the majority of visitor infrastructure is situated on the PN, Mars Vista, and Sun Prairie properties, and includes campgrounds and a hut system. The Mars Vista property is located off a paved road and is accessible in all weather with all vehicle types. The PN and Sun Prairie properties are accessed by 50+ miles of dirt road and require a 4WD vehicle. These properties may not be accessible in inclement weather.
Making a trip in the area requires careful planning and a higher degree of self-sufficiency than National Parks or other less remote public lands. We recommend you review each of the pages linked from the Plan Your Trip page, especially the Safety Considerations page, and the Road and Weather Conditions page at the time of your visit.
Airports
Commercial flights are available to Bozeman (BZN), Billings (BIL), and Great Falls (GTF). Your drive time from the airport to American Prairie depends on the airport and region of the prairie you will visit. In general, visitors should plan on a half to a full day's drive to reach their destination from these airport hubs.
Driving
Most visitors access the PN, Mars Vista, and Sun Prairie properties via Lewistown in the south and Malta in the north. Travel distances are long, and visitors must plan fuel stops in advance. No fuel is available on American Prairie. Credit card-operated 24-hour fuel pumps with both gas and diesel are located in Lewistown, Malta, and Lodgepole.
If you plan to travel off the pavement in the region, a 4WD vehicle is required along with a full-size spare tire. Please see our Prairie Conditions page for more information on driving.
Google Maps, Apple Maps, and similar online services are unreliable in the region, provide incorrect routing through private land or unmaintained roads, and the cell coverage they require is infrequent. We do not recommend them for navigating any unpaved roads in the region.